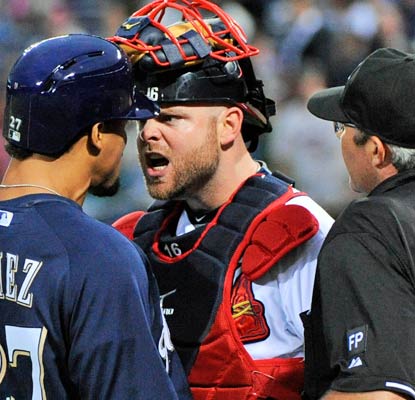 Brian McCann has undeniably been one of baseball's best hitting catchers since arriving in the majors in 2005.  But his pitch-framing abilities—getting favorable calls from an umpire on balls and strikes—were perhaps the most underrated part of McCann's tenure with the Braves. While we know his departure is going to cost Atlanta from an offensive perspective, do we know how much the absence of his pitch-framing skillset will cost the Braves in 2014? Can it be reliably quantified?
There's been a lot of advancement in pitch-framing research over the last couple years, and it's of course being evaluated within the industry. A lot of the guys with an excellent reputation for catching end up having pitch-framing stats that correlate with that perception, at least on some level.  The same is true for guys with poor reputations.  But you'll still find some catchers that have surprising numbers that jump out at you, like McCann.  He's never been known for his glove work and has a subpar reputation for throwing out would-be basestealers.
But according to Baseball Prospectus, over the last five seasons, McCann has actually led the majors in their pitch-framing metric.  A study cited by FanGraphs has McCann as the second best pitch-framer over the last three years, behind only Jonathan LuCroy.
Wrapping your head around the different ways these metrics are formulated isn't an easy task.  A stat called Regressed Probabilistic Model (RPM) "works by calculating the combined probability (and associated run value) that each pitch will be called a strike; summing those probabilities (and run values) across opportunities; attributing those values to a player (catcher or pitcher); and regressing 'career' values to the mean."  They've essentially told us that catchers appear to have a substantial impact on the success of their pitchers through their ability to gain extra strike calls from the umpire, which actually sounds pretty intuitive.
McCann will be replaced with some combination of Evan Gattis, Gerald Laird, rookie Christhian Bethancourt and maybe Ryan Doumit at catcher. Bethancourt has one of the best defensive reputations in the minor leagues, but there aren't many advanced metrics available to judge minor league catchers.  Here's how the others have fared across various defensive metrics in their careers, averaged over one full season:
| | | | | | |
| --- | --- | --- | --- | --- | --- |
| | FR/7000 | DRS    | RSB    | RPP    | CS%    |
| Brian McCann    | +22.2 | -2.6 | +3.7 | -0.6 | 24% |
| Evan Gattis | +11.6 | +3 | +1 | -0.9 | 50% |
| Gerald Laird | -23.5 | +1.5 | -1.4 | +0.4 | 35% |
| Ryan Doumit | -35.5 | -1.8 | -1.7 | -0.8 | 24% |
Gattis actually comes out looking pretty good. One defensive season is hardly enough of a sample size, but it's still strange to see the numbers painting him in a positive light when he has a horrible defensive reputation among many scouts.
Adding to the list of questions surrounding pitch-framing is quantifying just how much it effects the total value a catcher.  Should McCann's WAR be substantially higher because of his pitch-framing stats? Right now, FanGraphs' version of WAR (fWAR) doesn't account for pitch-framing at all, as it only factors in arm strength/accuracy and pitch-blocking ability. Baseball Reference's WAR (rWAR) attempts to account for pitch-framing through a vague catcher ERA defensive runs saved metric.
Which leads to a confusing result, because McCann's fWAR has usually been higher than his rWAR over the last several years.  One would think it would be the other way around. Based on these numbers, the Braves aren't likely to get as many favorable calls on balls and strikes next year as they have in the McCann era.  But could McCann's excellent pitch-framing numbers be more of a product of Atlanta's pitching staff than his framing skills?  Pitching staffs with better overall command and control should naturally generate better framing numbers, but that hasn't been measured.  What we know for a fact, though, is Atlanta has ranked first in the majors in runs allowed and third in lowest walk rate allowed over the last two years.
Dismissing pitch-framing stats outright just because they beg so many questions would be ignorant.  At the same time, it's hard to place too much faith in pitch-framing as a predictor of significant change from one year to the next when there's a different guy behind the plate.  That's the situation Atlanta will be faced with in 2014.  As a cost-conscious contending team, the Braves are going to miss Brian McCann, but perhaps it will be because of his bat way more than it will be because of his pitch-framing skills.
0 comments
Click Here to Continue Reading...