Starting Rotation Analysis and Beachy's Return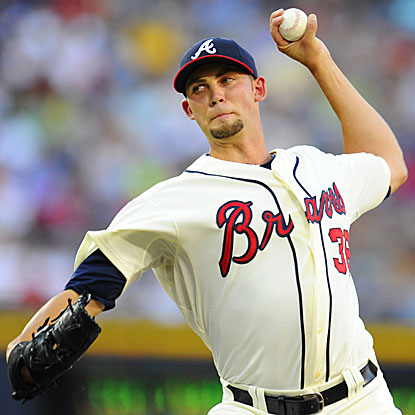 After a marquee offseason, expectations were reasonably high for the Braves entering this season. Most of the story lines surrounding the team were related to offense. Could Justin Upton realize his potential, or would he struggle hitting away from Arizona? How would the Braves cope without the grit of Martin Prado?  Could the team score enough runs despite having a ridiculous number of strikeouts?
None of those question marks really carried much weight to begin with. Not that fifty games is definitive, but from what we've seen, we can comfortably dismiss those particular narratives as non-issues, especially the strikeouts. The Braves are 5th in the NL in scoring– and have actually underperformed as a unit based on their underlying offensive performance.
The more glaring issue going into the season was the strength of the starting pitching.  Each member of the rotation has now completed at least eight turns against a wide ranging sample of competition — some miserable lineups, some decent ones and a few good ones, in all kinds of environments. Though it's still a small sample, there's more than enough out there that's concerning. While brilliant at times, the rotation as a whole is a lot more average than many seem to realize.
A quick and dirty summary on each starter's performance in 2013, and how it relates to Brandon Beachy's upcoming return:
Tim Hudson
Hudson's fastball fell to 89 mph last year, but has remained steady at that rate through each start. Of course, being 37-years-old, there's always the worry that he could fall of a cliff. While Hudson has looked pretty bad, he doesn't seem in danger of losing it completely. His strikeout rate (18.6%) is solid, but that's never really been his bread and butter, and its actually higher that his career average (16.2%). The sinker ball specialist just isn't getting the ball on the ground like he used to, and it's resulted in a career-high flyball rate (28.2%). And 12% of those fly balls have left the yard, leading to his well below league-average 4.98 ERA, though his peripherals suggest he hasn't been quite as bad as that. He's been a lot more meh than good, pretty much. Hudson needs to improve his groundball/flyball ratio and provide bulk innings as the season goes on in order to remain valueable. But he hasn't done much to merit high expectations. The opening day starter has put up the worst performance of any Braves starter thus far, but all the veteran presents means he isn't going anywhere when Beachy comes back.
Paul Maholm
Since opening the year with 25.2 consecutive scoreless frames (and drawing praise from fellow lefty and Braves legend Tom Glavine), Maholm's been beaten around here and there. All in all, his performance has resulted in a very good 3.55 FIP. Mahomie's success may in large part be due to his expanded repertoire of pitches, as he's added a cutter that's led to a career-high 18.4% strikeout rate, though his walk rate (7.7%) has increased a bit as well. Maholm's been league-average pitcher for most of his career, but he's comfortably surpassed that label based on his performance the last year. The Braves have to be pleased with what they've seen so far, and can reasonably expect continued success for the rest of the year, but nothing Cy Young worthy. He's a mainstay in the rotation until his contract runs out at the end of the season.
Kris Medlen
Perhaps the most disappointing of Atlanta's pitchers (if you heavily weight expectations) has been Kris Medlen. Since he joined the rotation full time last year, Medlen was probably the best pitcher in the majors. His ERA this season still looks good (3.02), but his underlying performance has suggested he's been much worse. What made Medlen so awesome last year was his 80 command, as he walked only 4.4% of hitters while striking them out at a 23.1% clip. Both of those have gone in the wrong direction this year (15.3% K rate, 8.8% BB rate), and he's already given up 7 home runs (most of them with 2 strikes). Having Medlen return to form as a top of the rotation starter could be the difference in winning a division for the Braves. Some of the pitch selection has seemed strange this year (he's throwing his changeup to lefties 8% less this year with 2 strikes), so maybe he and Evan Gattis didn't get off to a great start. Medlen's been throwing to Brian McCann since the Braves catcher returned from shoulder surgery, but hasn't regained last year's consistency. He's just a lot more fun to watch when he's 2012 Kris Medducks instead of what he's shown in 2013. And he just might be a prime candidate to go back to the bullpen in a month.
Mike Minor
Minor, who led the Braves in innings pitched in 2012, has turned out to be the Atlanta's ace thus far and one of the very best pitchers in the majors in 2013. While eight games can often lead to fluky results and aren't very revealing (see Derek Lowe and his league-leading ERA on this date in 2012), he's at least been able to carry over his success from the second half of last year.  It's not crazy to call him a top of the rotation starter. He's striking out 22.8% of hitters, best on the staff, but what's eye-opening is his excellent walk rate (5.4%). Minor's a flyball pitcher but has reduced his home run rate considerably, consistently getting ahead in the count while inducing weak contact. Maintaining his 2.78 ERA wouldn't be surprising, and everything he's done so far suggests he's here to stay among the league's better pitchers. There really hasn't been a knock on his resume this year. Hard to make an argument against him being Staff Ace.
Julio Teheran
The Braves have to be extremely pleased with Teheran's results this year, not to mention his performance and development. While he isn't striking out hitters at the rate one might have expected (14.0%), he's displayed amazing control and has limited his free passes to 4.2%. He's gotten hit around here and there, but he's also delivered a few gems, going deep into ballgames. Teheran's use of his changeup, or lack thereof, has been a hot topic. We'll see where it goes from here, but he'll need to develop it to become a front of the rotation starter, which has always been seen as his ceiling. If he struggles in his next few starts, he'll probably be the one to move to the bullpen if Beachy comes back in June. But he's seemingly gotten better with each start, leaving the Braves with a tough decision to make.
Even with injuries to core members of the bullpen, the starting pitching, as a total unit, is the biggest weakness for Atlanta. And who knows, between now and mid-June, a lot can happen. Someone could develop a nagging injury, someone could blow out their elbow, Beachy could suffer a setback in rehab, Minor could hurt himself crushing weights, etc. But if every Braves starter maintains their health and performance thus far, who do you think should be sent to the bullpen? The Braves are stretching Beachy out in the minors, starting tonight in Gwinnett, and Frank Wren has stated that someone is going to have to be moved in the not too distant future. My gut tells me it'll be Teheran, but the more I think about it, moving Medlen just might make more sense.
Follow me on Twitter @ArunKGupta
If you enjoyed this post, why not sign up to get new posts delivered via email or in an RSS Reader? Or, for additional updates and thoughts, check me out on Facebook.