Yu Darvish: Ahead In The Win Column, Behind In The Pitch Count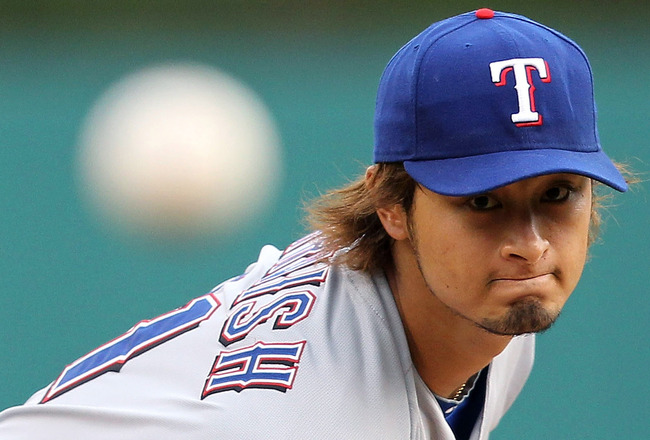 In the three games Yu Darvish has started, the Rangers have picked up three wins. He hasn't allowed a single home run and has a sub-four ERA. But there may be reason for concern in Texas. Darvish hasn't exactly been the swing-and-miss strike-zone-pounding inning-eating $111.7 million stud the Rangers were expecting. Far from it actually. So what gives?
It's not like Darvish is throwing different pitches. After signing with Texas, Keith Law gave a quick and dirty scouting report:
Darvish generates good arm speed through hip rotation, and despite slightly late pronation, his arm works reasonably cleanly and he repeats the delivery well. Darvish will show the usual assortment of pitches, led by a 91-95 mph fastball that's been reported up to 97 this year, mixing it with a hard shuuto that looks like a two-seamer in the low 90s or upper 80s, a hard slider/cutter, a softer slider, a splitter, a straight changeup and a slow curveball.
And in his three starts, Darvish has stuck to that script. He's hasn't lost anything off his fastball and is showing off pretty much everything in his impressive repertoire. The 25-year-old will eventually find some kind of groove and junk his worst offerings, but right now it's a little early to know what those are against the competition he's facing.
But if Darvish has lived up to his book, why does he have almost as many walks (13) as strikeouts (14)? Why is he laboring through games, only making it past the sixth inning once? Why is he pitching like a developing prospect instead of a guy with years of professional baseball (at an elite level) under his belt?
Part of the reason is, of course, competition. He's facing the world's greatest hitters now. They'll make you earn it. Here's an example, via Brooks Baseball:
It's a little hard to tell, but check out the lack of swinging strikes. Especially outside of the zone. We know he's throwing the same ace-like filthy pitches he threw in Japan, so why aren't players swinging and missing more? Are MLB hitters that much better at recognizing pitches? Probably not. But the thing is, they don't have to recognize nearly as much when they're ahead in the pitch count. When it's 1-0 or 2-1, a hitter has the luxury of taking a pitch they'd otherwise swing at when it's 0-1 or 1-2.
And that's where Darvish is lagging behind the competition. At least through three games, anyway. From Dave Cameron:
Darvish has thrown a first pitch strike to just 48% of the batters he's faced – league average is 59%. Most pitchers, especially the good ones, are able to get ahead in the count with regularity and expand the zone from there. Darvish has had to pitch from behind in the count to 46 of the 88 batters he's faced this year, and opposing batters are just choosing to lay off his hard-to-hit breaking balls and wait for a fastball that they know is coming eventually.
Telling Darvish to throw more first-pitch fastball for strikes is a lot easier said than done. Sure, he's got the ability to do it. After all, he did it for four years in Japan, walking less than 1.4 hitters per game along with posting a sub-two ERA in each season. No one was expecting that kind of dominance in the big leagues, especially for a guy pitching in hitter-friendly Arlington in the Big Boy League. If you're not Pedro Martinez, that stuff just doesn't happen.
I love  exaggerated narratives and character intangibles like most baseball fans, but I try to not get too caught up in them. But maybe, just maybe … Darvish doesn't trust his stuff against guys like Pujols, Cabrera and Fielder. Or even less intimidating guys like Billy Butler and Yunel Escobar. Maybe that's why former Japanese players have consistently failed to live up to all their hype.
But you know, Darvish isn't like those guys, and not just physically. He was a lot better over there, and I think he'll be a lot better over here. And when he takes the mound against the Yankees tomorrow night, I hope he throws a first pitch strike to almost every single hitter he faces. I just wouldn't bet on it.
Follow me on Twitter @ArunKGupta
If you enjoyed this post, why not sign up to get new posts delivered via email or in an RSS Reader? Or, for additional updates and thoughts, check me out on Facebook.